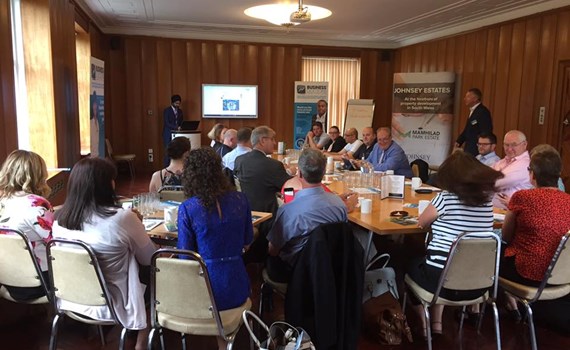 September 01, 2017
Expert led seminars aim to help boost business
LEADING Gwent business customer service expert Angie Norman heads an exciting trio of autumn seminars to be held at Pontypool's Mamhilad Park Estate.
Angie Norman, Head of Continuous Improvement, at Zodiac Seats UK, will talk on managing customer requirements to improve customer service.
The first seminar, on Tuesday, September 12, is, entitled Growing Your Business - The Importance of Customer Service.
The seminars, staged by Graham Morgan's Business Doctors, are all free of charge and are held in the Board Room, Mamhilad House, Mamhilad Park Estate, Pontypool.
Managing Director of Business Doctors in Wales Graham Morgan, said: "We're very pleased to have been able to secure Angie Norman as speaker for our first autumn seminar. Zodiac Seats UK, based in Cwmbran, are a major blue chip employer with UK and international exposure.  We're looking forward to Angie sharing her knowledge of the business-critical area of customer service."
The second seminar, on Thursday, October 12 is Business Growth - Recruiting the Team your Business needs. 
Graham Morgan said: "We will be joined by Grant Santos - Managing Director of Educ8 Ltd – a Welsh based organisation involved in all aspects of training and development of employees and delivering a range of schemes linked to Welsh Government. Getting the right people with the right skills and with best training is essential for every business."
The final seminar of the year, on Tuesday, November 21, is Growing Your Business - Planning for 2018
Graham Morgan said: "Business Doctors will take delegates through some of the simple planning that can make a huge difference to Business Success. Preparing for the next calendar year is an important exercise for every Business Owner and having an understanding of where to start will be the theme of this session."
Main presenter, Graham Morgan, will draw on his extensive knowledge, experience and expertise in guiding attendees through a session which will encourage delegates to consider a range of different areas to encourage delegates to really drill down into the plan they have for their business in the year ahead.
The seminars are held in The Board Room, Mamhilad House, Mamhilad Park Estate, Pontypool, Torfaen, Gwent, South Wales, NP4 0YT. There is plentiful free parking at Mamhilad Park Estate.
Each of the seminars follows a similar format with registration & refreshments at7.45am with introduction of Session 8.15am and main presentation from 8.20am. There is a Q & A Session 9am to 9.15am with announcements 9.15am, networking & departure 9.20am to 10am.
Speakers are available afterwards for individual discussion.
Although the seminars are all free of charge attendees must register to secure a place. For more information and to book either visit www.businessdoctors.co.uk or contact Gemma Johnsey-Plumley at gemma@jeuk.co.uk or call 01495 763275
For more information on this news release please contact David Barnes at DB Public relations on 01633 548014; 07866 148407 david.barnes@dbpublicrelations.co.uk