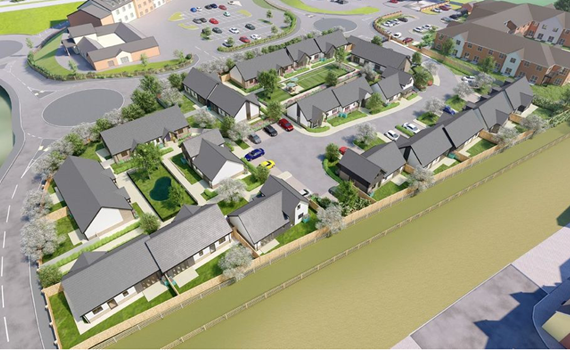 October 23, 2020
On Tuesday 6thOctober, plans were approved unanimously by councillors to build new bungalows for people aged over 55, at the Johnsey Estates owned Westgate site in Llanfoist, Abergavenny, despite the scheme going against the council's Local Development Plan.
The care scheme will see 24 homes built, including 20 bungalows, on a site next to the recently opened Foxhunters Care Community in Llanfoist. The plans include detached and semi-detached one, two and three-bedroom bungalows, with 24-hour emergency support, communal areas and 34 car parking spaces. 
This development at Westgate, is seen as highly important and will undoubtedly be welcomed by those aged over 55 and living in Monmouthshire. The care scheme will also create 20 new jobs, many of them highly skilled care sector positions.
Monmouthshire Cllr Giles Howard, who represents the ward, stated that although the site was originally allocated for employment, other developments such as a Brewers Fayre pub and care home have already been built in the area. 
 This sentiment was echoed by Cllr Sheila Woodhouse who said the development would be "a great asset" to the area. Cllr Louise Brown also supported the scheme on the basis that there is a need to provide accommodation for older people in Monmouthshire.
"There is a demand for bungalows and often people who wish to retire want to have a bungalow rather than a house," she added.
This news compounds a great couple of months for the Johnsey Estates team who secured consent to build a mixed-use urban village in Pontypool, back in July. Chief Executive of Johnsey Estates commented; "It is great news to have secured both of these planning resolutions recently. A lot of hard work has gone into the planning process. We will now look forward to turning these plans into new developments which will serve both the Abergavenny and Pontypool communities well into the future."