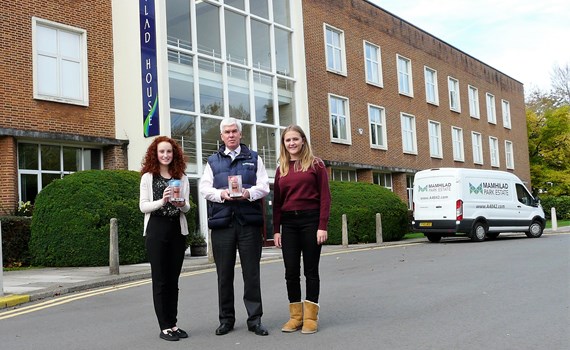 October 23, 2018
YOUNG Gwent entrepreneurs Lisa Davies and Ellie Harlow are being given a welcome boost to their start up businesses by Johnsey Estates owners of Pontypool's Mamhilad Park Estate.
The two seventeen year olds are reaping the benefits of the support that they are receiving from the owners of the business park where employment numbers have grown to more than 1,600 jobs in the last three years.
Lisa and Ellie, both pupils at Monmouth School for Girls, started completely different businesses which are now thriving due to their hard work and support they have received, including from Johnsey Estates.
Lisa, from Abergavenny, is the owner of Xorbit, a novel car dehumidifier and air freshener in a cup while Ellie, from Hereford, owns VenDirect which supplies and stocks vending machines. Lisa was named Young Entrepreneur of the year in the Monmouthshire Business Awards 2018
James Crawford, CEO of Johnsey Estates which owns Mamhilad Park Estate, said: "Lisa and Ellie are two determined young women. The young entrepreneurs' drive and determination to succeed is refreshing.  Johnsey Estates are delighted to have been able to offer our support here at Mamhilad Park Estate to these two entrepreneurs. We are proud to be able to support the next generation of business people coming through here at Mamhilad Park Estate."
Lisa, whose parents own a car dealership and garage business in Abergavenny, said: "Soon after the launch of Xorbit in November 2016, CEO of Johnsey Estates, James Crawford, kindly contacted me offering any support he could give. As a result, Johnsey Estates have sold Xorbits in conjunction with their caravan storage facility at Mamhilad Business Park over the past 18 months and have helped me to enter into this market.
"Xorbits are now due to be soldto those people taking up the park's new on site self-storage facilities as well which is great. I am so grateful for the support of James and his team and his on-going mission to encourage young entrepreneurs to thrive in the business world."
Lisa said, "Xorbit is a car dehumidifier and air freshener in a cup. Incorporating a transparent body with the use of indicating silica gel, Xorbit's progress can be monitored by the user as the beads change from orange to green as water is adsorbed. It's perforated inner core allows optimised air flow and the whole product is topped off with an air freshener, available in seven colours and fragrances.
"I originally designed Xorbit back in 2014 as an entry for my school's STEM competition. My Mum's car misted up every morning on the way the school, so I decided to come up with a solution, overcoming all the weaknesses of the current demisting products. It has been a challenge to establish the business, balancing the development and marketing of the product alongside my studies.
"One measure of the success of my business is the positive feedback I have received from my customers and the degree to which they recommend the product to others. I have a high level of return customers too, especially with my 'Refresh' service which renews the silica gel and fragrance of their existing  Xorbit.
"Having conquered the local market, my plan is to promote Xorbit nationally through my website. Currently, my studies are taking priority, however, I do find my business activities are a welcome change from revising. I am always looking at ways to improve Xorbit and will shortly re-launch a special Christmas edition for the lucrative festive period."
Lisa, who is studying maths, further maths, physics and economics, was named UK Junior Engineer of the Year in 2016 for her work with Xorbit.
Ellie, whose father David is managing director of telephone based specialist insurance business Quote Detective which is based at Mamhilad Park Estate, supplies clients with drinks and snacks vending machines as well as restocks.
Ellie said: "I started my business in December last year when I realised the gap in the market for quality vending machines.  I was also inspired by my dad to own a business and combined with my passion for business, VenDirect was born in Quote Detective's office block. 
"It has been reasonably difficult to manage my time, allowing me sufficient time to attend to my business, balanced with my studies.  It is also a task to negotiate and secure contracts, which is where Mamhilad Park Estate was able to help and ease the process with my first machine.
"Not only have Johnsey Estates provided me the perfect location to start my business, but they have also provided me with the contact details of specialists, allowing my business to thrive and expand.  The support received has been invaluable and I would not be where I am today without the abundance of help and support offered by Mamhilad Park Estate."
"In the future, I plan to invest in the development of Vending machines in order to improve the efficiency of everyday machines. This will cut down the time spent by the customer at each machine, as well as broadening the options available to the client.
"I plan to continue my business over the coming years, possibly expanding it further whilst at university, hence ensuring a firm basis for me to continue my business career on the other side of further education
"I measure the success of my business by the levels of income from each machine, allowing me to assess productivity of each.  It also gives me a rough idea of the amount of stock that I need to purchase on a weekly basis.
"In regards to future business prospects, I would like to explore the marketing industry as well as continuing my development in the vending and snack industry."
For more details on Xorbit visit www.xorbit.co.uk  and for Vendirect visit www.vendirect.co.uk 
Picture caption: Young entrepreneurs:  James Crawford, CEO of Johnsey Estates, owners of Mamhilad Park Estate, with Lisa Davies (in white cardigan) and Ellie Harlow
For more information on this news story please contact David Barnes at DB Public Relations on 01633 548014; 07866 148407; david.barnes@dbpublicrelations.co.uk