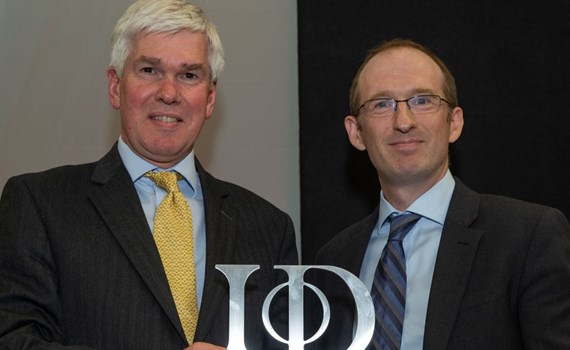 May 28, 2019
LEADING Gwent property firm boss James Crawford has been recognised with a top director's award.
James, Chief Executive of Torfaen-based Johnsey Estates UK Ltd, which owns Mamhilad Park Estate, has been awarded the Judges' Special Award at the prestigious Institute of Directors (IOD) Wales Awards 2019
Mamhilad Park Estate is the successful business park in Pontypool, Torfaen, which is home to 150 occupiers where employment numbers have risensteadily over the past three years to now stand at more than 1,600.
The IOD Wales judges in their Judges' Special Award citation said: "Many of the entries received by the IOD for this year's awards covered the technology and service sectors but the judges' awards criteria are wide ranging to encompass all the skills required from a director in the many diverse sectors that we have in Wales.
"The achievement of good results is often dependent on taking tough decisions at the outset of an appointment to provide a long-term basis for success of the business and the company.
"In this case, the judges were particularly impressed by this director's adoption of a strategic plan, inclusive HR policies for staff and strong corporate governance as the basis of its investment decisions, all of which contributed to a very positive turnaround story for the business
"James Crawford has transformed a long-established family business in the property sector and regenerated the business park."
James Crawford, commenting on the award, said: "I am thrilled to have been afforded this prestigious award from IOD Wales. I accept this judges' Special Award as well deserved recognition and accolade for our team at Johnsey Estates who have worked tirelessly over recent years to transform Mamhilad Park Estate to the success story it is today.
"I must pay tribute to my Johnsey Estates Board colleagues and in particular our Chairman, Andrew Wilkinson, without whose support we just would not been able to achieve what we have done."
The awards, now in their ninth year, celebrate business achievements and inspirational leaders across Wales, while bringing all sectors of the business community together, irrespective of size, geography and longevity.
IoD Wales director Robert Lloyd Griffiths said: "I am delighted that the Secretaries of State for International Trade and for Wales were able to join us at our awards celebration.
"Businesses across Wales are making huge efforts to contribute to the economy and our members continue to make a positive impact in Wales, the UK and on the global stage.
"The Institute of Directors Wales Awards recognise the very best talent and achievements of directors, and we are confident that great directors mean great businesses, which ultimately means a better economy.
"Sincere thanks to all those who entered and sponsored this afternoon's awards, which were a celebration of exemplary leadership, which was showcased here to an incredible extent."
Leading Directors within two key Welsh Tech companies were among 13 exemplary Welsh Directors acknowledged at the IoD Wales' Director of the Year Awards 2019, which were attended by The Rt. Hon Liam Fox MP, Trade Secretary Liam Fox and The Rt. Hon Alun Cairns MP, Secretary of State for Wales.