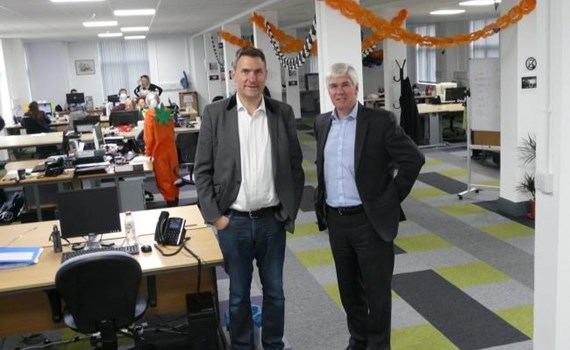 October 31, 2017
Skilled detective work ensures niche insurance business finds ideal business location for Next Venture
 A hugely successful specialist insurance broker in Gwent has tracked down the perfect new home for its expanding business at Mamhilad Park, Pontypool.
Burgeoning insurance business Quote Detective outgrew space at Cwmbran's Springboard Innovation Centre and has now taken 4,000 sq ft of space at Johnsey Estates owned Mamhilad Park Estate.
Business partners David Harlow and Stephen Peck are in fact building two businesses at the popular Pontypool business park. They have a niche insurance broking service Quote Detective and another Next Venture, which creates intricate, bespoke IT specifically for comparison websites.
Quote Detective currently employs 28 contact centre staff while Next Venture has four,  high calibre IT developers on its books.
James Crawford, Chief Executive Officer of Johnsey Estates, which owns Mamhilad Park Estate, said: "Technology businesses such as these are at the top of our hit list in terms of businesses we are looking to attract to locate to Mamhilad Park Estate.
"The business park, with its unrivalled facilities, communications infrastructure and rural peaceful setting,  is perfect for the type of work these high technology businesses do which is why we're so pleased to welcome Quote Detective and Next Venture to Mamhilad Park Estate."
Quote Detective Chief Executive David Harlow said: "Quote Detective is 'phone based insurance business while Next Venture employs specialist, extremely highly trained and skilled IT developers to create the software needed by insurance comparison site operators some of which are based here in South Wales.
"We have plans to boost Quote Detective staffing levels up to 45-50 by Easter 2018 and to 65 by this time next year. Next Ventures will most probably double its head count to eight within 12 months."
David said: "The space that we have taken here at Mamhilad Park Estate, Pontypool, is ideal for our expanding needs. Johnsey Estates have been unbelievably accommodating in meeting our precise needs for which we are very grateful.  We have a wing of a building here of approximately 4,000 sq ft and have the ability to expand onsite when the need arises.
"The location has first-class transport links, the business park has good cabling infrastructure, efficient and helpful management and we have a hard-working, local workforce." 

 Quote Detective is an insurance broker, owned by Next Risk solutions Ltd, and Next Venture is an IT company that includes Quote Exchange, as well as other technology. The businesses work with leading businesses in the world of insurance broking and online quote comparison.
David Harlow said prospective Quote Detective employees need good work ethic, basic numeracy and bags of ambition. Prospective Next Venture staff requires a University degree in computer programming or similar.
Picture caption: Detectives: James Crawford, Chief Executive of Johnsey Estates with David Harlow and Stephen Peck, of Next Risk Solutions Ltd
For More information on this news release please contact David Barnes at DB Public Relations on 01633 548 014; 07866 148 407 david.barnes@dbpublicrelations.co.uk