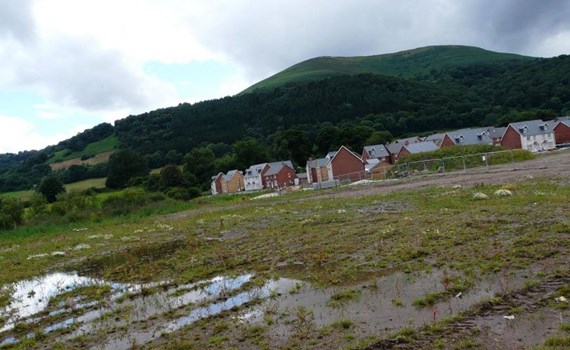 August 07, 2017
Land sale completed for construction of 70-bed care home at Westgate, Abergavenny creating up to 100 jobs
THE land sale has been concluded for the construction of a 70-bed care home at Llanfoist, Abergavenny creating up to 100 full and part-time jobs.
South Wales Based market specialist care home business Castleoak Care Developments obtained planning permission to construct a care home on the site.
Castleoak bought the 1.48 acre (0.60 hectares) site just off Merthyr Road, at Llanfoist, known as Westgate, from landowners Pontypool-based Johnsey Estates for an undisclosed sum.
The specialist care home, to be built on a plot of previously undeveloped land on the western edge of the site overlooked by the Blorenge and likely to be called Y Bloren reflecting its location, is set to be operated by Wales-based Dormy Care Communities.
Details lodged with Monmouthshire County Council with the planning application show the new care home will be on two floors with 34 rooms on the ground floor and 26 above served by 31 car parking spaces. Rooms will be equipped with balconies. The completed care home is set to include a library, gym, cinema, music, communal areas, kitchen, laundry and guest room.
James Crawford, CEO of Johnsey Estates, said: "We are very pleased to have concluded this latest land sale at Westgate Llanfoist to Castleoak. The new care home, together with the Premier Inn hotel, restaurant and Costa Coffee Drive Thru will deliver much needed investment, jobs and new facilities to Abergavenny at this important location on the A465 Heads of the Valleys trunk road."
James said: "The remaining plots at Westgate are 0.72 acres (0.3 hectares) and 2.4 acres (0.98 hectares) respectively, although the latter could be sub-divided. Both plots are suitable for a number of commercial uses, subject to planning, and we are prepared to consider freehold land sales, or design and build packages on a leasehold or freehold basis."
The total area of the Westgate development site at Abergavenny is 12 acres (4.87 ha.) of net developable land.
The construction of a 61-bed Premier Inn hotel and Brewer's Fayre is well advance on the site, a McDonalds Drive Thru scheme opened last year creating 65 new jobs. A Costa Coffee café Drive Thru is also well under way on the sitewith 21 car parking spaces.
The Premier Inn and Costa Coffee Drive Thru are due to be open and operating by October this year.
Johnsey Estates is the developer behind the overall scheme at Westgate, Abergavenny. The company sold three acres of land to Persimmon Homes and, having completed the infrastructure to the site, concluded the sales of other plots of land in line with the planning consents granted for McDonald's, the Premier Inn hotel, Brewer's Fayre restaurant and Costa Coffee Drive Thru and now Cardiff-based Castleoak for a care home development.
Picture caption: The plot: The land, at Westgate, Llanfoist, where the new care home is set to be built
For more information on this news release please contact David Barnes at DB Public Relations on 07866 148 407; 01633 548014; david.barnes@dbpublicrelations.co.uk