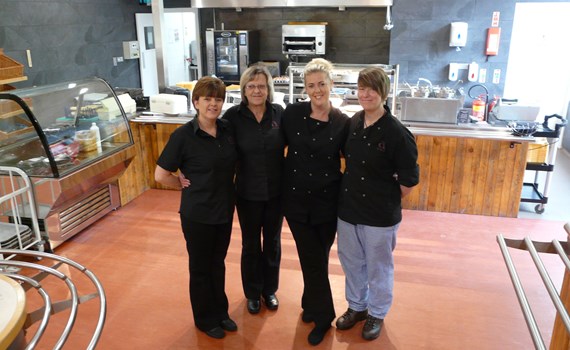 January 01, 0001
A café which serves one of the largest office parks in Gwent has been recognised with a top award.
The Café on the Park in the heart of Mamhilad Park Estate, Pontypool, is celebrating after being awarded the highest possible marks, A5 very good, for food hygiene.
The café, which serves more than 150 hot meals in its restaurant every day to workers at a range of businesses on the Torfaen business park, also provides meals directly to firms on site as well as to the onsite children's nursery.
Café on the Park manager Natasha Vaughan said: "We are absolutely delighted to have received this recognition. I am thrilled for the whole team who have worked so hard."
Natasha, who started work at the café 15 years ago as a kitchen hand before progressing through the ranks, said the entire team are proud of their achievement.
James Crawford, CEO of Johnsey Estates which owns Mamhilad Park Estate, said: "We simply couldn't be happier for Natasha and her team at having achieved the highest marks achievable. We are very fortunate to have a café of such a high standard at Mamhilad Park Estate. I know it is very highly regarded by all that take advantage of their excellent services."
Jason Austin, senior environmental health officer for Torfaen County Borough Council, said: "It is always pleasing to see businesses achieving the highest rating possible under the food hygiene rating scheme.
"Our role is to work with businesses during inspections to provide them with advice and guidance as well as carry out enforcement, where necessary, and it is positive for both the business and inspectors where the outcome of this work is a 5 rating.
"We would encourage consumers to always check the food hygiene rating before visiting a food establishment in order to make an informed decision about where to eat."
To find out how the food hygiene rating scheme works, or to check the rating of any business, please visit: www.food.gov.uk/multimedia/hygiene-rating-schemes/ratings-find-out-more-en
Picture caption: Top marks: Natasha Vaughan (second right) with Tracey Price, Jackie Vaughan and Rosemary Mecklamburgh-Evans, of The Café on the Park, Mamhilad Park Estate, Pontypool
For more information on this news release please contact David Barnes at DB Public Relations on 07866 148 407; 01633 548014; david.barnes@dbpublicrelations.co.uk