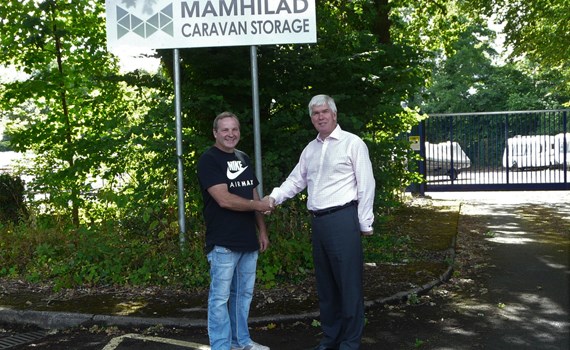 July 28, 2017
Mamhilad Park Estate hits a ton as hundredth customer signs up for its gold star caravan storage
A recently launched caravan storage park in Gwent has welcomed its one hundredth customer to its gold star facility.
Long time Gwent caravan owner Ian Price, of Malpas, Newport, has moved his craft onto a pitch at Mamhilad Park Estate.
Ian, the owner of Blackwood-based taxi firm Top Class Travel UK Ltd., said: "I'd stored caravans at various other sites over the years but this new facility at Mamhilad Park Estate is by far the best in terms of site accessibility, proximity to the dual carriageway and security.
"I like the fact that the site has a flat tarmac surface, is covered by CCTV, that I can enter whenever I like and that the road access to the site is excellent which makes it so easy when I'm towing."
The area, at Mamhilad Park Estate near Pontypool, has created secure space for 130 caravans to cater for owners looking for easily accessible, CCTV monitored, storage.
A pitch for a caravan on the site costs £300 plus VAT a year. Owners of the caravans can come and go as they please using their bespoke security fob.
Johnsey Estates, owners of Mamhilad Park Estate, has invested significantly to create the bespoke caravan park which has secured a Caravan Storage Site Owners Association (CaSSOA) Gold Award for the standard of its facilities.
CaSSOA awards three levels of security, gold, silver and bronze, based on a number of features including CCTV, entry points, perimeter fencing and alarm systems. Storage at a CaSSOA gold site can help reduce insurance premiums for owners
James Crawford, CEO of Johnsey Estates, said: "We're very pleased to be able to welcome Ian, a seasoned caravanner, as the hundredth caravan owner to our new park. The caravan park has been very well received as an additional feature to our expanding list of excellent facilities here at Mamhilad Park Estate."
"Owners often don't have space to keep their caravans at home and need somewhere which is safe, secure and above all accessible which is what we provide here at Mamhilad Park Estate.
 "We carried out considerable research, talking to many owners, ahead of creating this brand new storage facility here at Mamhilad Park Estate to ensure we provide what they want. The fact that the park is so close to a roundabout off the A4042 dual carriageway and so accessible to the road network, is a major attraction as is 24hour CCTV security coverage."
Mamhilad Park Estate offers office and work space and ancillary facilities such as a nursery, restaurant, fitness gym, conference rooms and secure, free parking.
Mr Crawford said as well as local caravan owners they are taking bookings from elsewhere in the UK. Owners will leave their vehicles at the site and pick them up when travelling from Wales and return them to the site.